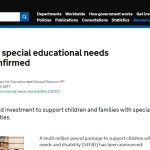 admin
The government has recently announced a new multi-million pound fund to support children and families with SEN.
Edward Timpson announced this news on [Monday] 9 January at the Department for Education. The funding, totalling almost £60million, will be available from April of this year.
The government's recent SEN support press release
'The funding announced includes:
£15 million for the Independent Supporters programme in 2017 to 2018, run by the Council for Disabled Children, this has been a real driver of change for families navigating the SEND system and improving the experience for them
£2.3 million for Parent Carer Forums in 2017 to 2018, who bring parents together and provide a voice to influence local decision-making
£1.8 million to Contact a Family, to support individual Parent Carer Forums and their National Network, and to run a national helpline for families
The package also includes funding for councils worth £40 million, which the minister wrote to them about shortly before Christmas. This investment, an increase of £4.2 million from last year (2016 to 2017) will support them to make effective plans for this important final year of the transition to the new SEND system.
Minister Edward Timpson said:
"These reforms are the most significant we've made to the support for children and young people with special educational needs and disabilities in a generation and we know that they are making a difference, thanks to the passion and dedication of all those involved.

"As we enter the final year of the transition, I know there are still challenges to overcome, to ensure that the inspiring work going on in many parts of the country is shared with areas where improvements still need to be made.

"That's why I'm delighted to be able to confirm this additional funding for councils and for the groups playing such a vital role in supporting children with SEND. All children, no matter the obstacles they face, should have the same opportunities for success as any other."'
Editor's note
Read the government's press release in full.
In addition to this, our recent interview with Edward Timpson MP appeared in issue 18 of The SEND Practitioner.