TSP Briefing
Issue 18
Jan/Feb 2017
Editorial
Even from a neutral perspective, 2016 was one of the most extraordinary years in living memory. As we begin 2017, the political status quo is in such a state of flux globally and domestically, that many 'givens' and established norms have been swept away by a tide of populism. In the wake of such a year, when the only certainty is the undertow of uncertainty, it is tempting to look at our education and health systems as safety-nets of stability. But even here, in the great public institutions that sustain and nurture our humanity, there is uncertainty.
Navigating this turbulence would be tricky enough at the best of times. But, combine this post-Brexit world with the pre-Brexit education reforms and one realises that the sheer external and internal forces at sea are daunting. And yet, despite this, SEND practitioners and the education system have shown remarkable resilience in a stormy time that is as far from the doldrums as Cape Horn is from the English Channel.
So, with all of this playing out – and at the beginning of a new year – it's important to seek guidance from those in the know: those who make the decisions in government; those who support our practitioners; and those who are experts in the art of policy. With this squarely in view, I drew together a dream-team wish-list of experts for my readers to pose their questions to: three of them duly obliged and I commend their invaluable insights to you.
You sent in a flood of questions. I pared them and posed them to the country's most influential SEND figure (the minister of state for vulnerable children and families, Edward Timpson) and the chief executive of one of the most high-profile charities for SEND practitioners (the CEO of nasen, Dr Adam Boddison). Their responses to many similar questions set out their views on such things as the Code of Practice, early identification, nominal budgets, the new national curriculum, the Rochford Review, teacher training, and other SEND questions. Most importantly, their answers reveal similarities and differences that not only reflect their positions, but also shed light on the SEND landscape and education more generally.
To complement the Q&As, I thought that it would also be useful to commission a thought-leadership piece on the SEND reforms from one of the country's most respected SEND policy experts and academics. I was thrilled when Brian Lamb accepted my proposal and his progress analysis of education, health and care plans (EHCPs), outcomes, the local offer and strategic engagement is elucidating.
Finally, as you may well have noticed, the initial email that links to this issue has been redesigned, so that it is cleaner, easier to navigate, and links to the pieces on our website. This means that we're not clogging up your inbox with 1,000s of words, but giving you a summary of each piece, which you can click-through-to on our website should you wish. This allows us to provide you with even more useful content. To this end, you'll not only find a summary of a research survey that we carried out with hundreds of our successful CPT3A delegates, but you can also read a separate Q&A with two of our most recent CPT3A graduates.
Thank you so much for subscribing to The SEND Practitioner. I hope that you find it useful and that you have a fine start to 2017.
Best wishes,
Edward Farrow
Editor
edward@realgroup.co.uk
PS: if you do not currently subscribe to this publication, but would like to receive it in your inbox, please do sign up. Also, if you want to receive the latest updates on SEN and The SEND Practitioner, follow us on Twitter.
In this issue…
A Q&A with Edward Timpson MP
A Q&A with Dr Adam Boddison
The SEND reforms: Where are we now? By Brian Lamb OBE
What our CPT3A graduates think of our course
Edward Timpson, Adam Boddison and Brian Lamb's pieces remind us that, two years on, questions around the SEND reforms are as ubiquitous now as they were when I first interviewed Brian Lamb for the inaugural issue of The SEND Practitioner. Since then, there has of course been progress, but the strength and the wit of your questions suggest that this room is still dominated by the gargantuan bulk and shadow of the SEND reforms.
While the SEND reforms continue to take shape, other important developments have been somewhat cast in the shade. The relatively recent changes to the Joint Council for Qualifications' (JCQ) regulations, mean that all access arrangements assessors (previously known as specialist assessors) must have an appropriate level 7 or equivalent qualification by 31 August 2017. Amongst all this uncertainty, it is perhaps unsurprising that some SEND professionals remain unaware of this important necessity.
So, as we hurtle across this landscape of reform and the incontrovertible JCQ deadline, we thought that it would be a good time to ask our Certificate in Psychometric Testing and Access Arrangements' (CPT3A) graduates what they really think of our course. Because, as a level-7-equivalent postgraduate course in individual access arrangements assessment, CPT3A fully meets the JCQ access arrangements assessor requirement now, in 2017 and beyond.
We asked hundreds of our CPT3A graduates six simple questions and received a rather positive response.
How do you rate our online learning?
98% of our delegates rated our online CPT3A of a high/very high quality.
Are you likely to recommend us to a friend or colleague?
The average mark was 8.86 out of ten. Rounded up, this means that, on average, our delegates were extremely likely to recommend the course to their colleagues.
Why did you choose to take CPT3A online?
Speed of access.
Not having to spend time away from a learning centre.
Geographical differences.
This survey focused on our online delegates, so we're heartened that the top three responses are all key elements of our online learning. Immediate access at the click of a mouse – any time, any place, anywhere – define our courses and we're glad that they clearly appeal to our delegates too.
What are your favourite aspects of working with us?
Tutor support.
Campus Online platform.
Real Training customer service.
Technical support.
It's pleasing to hear that our delegates placed tutor support top of the list, because good pastoral support is key to effective online learning and at the heart of our training. When we first started out, many learners told us that their previous experience of online learning left them cold and unsupported. We were determined, therefore, to develop online learning that places tutor guidance and support at the centre of each delegate's experience. There is always more work to do, but this indicates that we are on the right track.
Campus Online, our very own Word Press virtual learning environment, supports our students and ensures that they can access strands, learning experiences, activities, libraries, course materials and their course tutors at the drop of a hat. They can also communicate with their tutor and fellow delegates via subject-related forums. While our customer service and technical support are critical to the delegate experience, we're pleased that tutor support and Campus Online are in the top two. This is because such a rating suggests that the user experience and tutor support is effective and reduces each delegate's need to contact our customer service and technical support teams.
What are your career development aims?
Enhance career (20%).
Develop as a SENCO (18%).
Become an access arrangements assessor (16%).
Gain a postgraduate [level 7] qualification (16%).
Join my senior leadership team (11%).
Unsure (7%).
Consultancy (6%).
Retirement (3%).
Improve structure/standing of school (2%).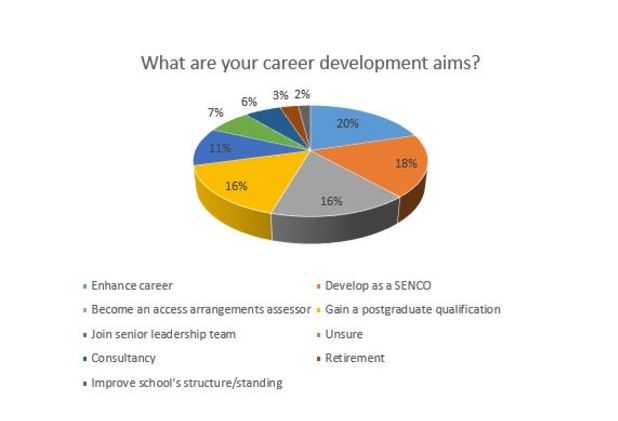 We received a variety of open responses, with quite a bit of crossover, so shoehorning them into percentages and categories that can be understood at a glance took a bit of judgement. Despite this, the responses paint a general picture of where our delegates are aiming and are illustrative.
The most striking combined statistic that comes out of this research study is this: 72% of our respondents took CPT3A as part of an effective career development plan focused on enhancing their careers, developing as SENCOs, becoming access arrangements assessors, gaining postgraduate level 7 qualifications, and becoming senior leaders. Outside of this clear majority, 8% of respondents were either looking to go into consultancy or improve the standing of their school, while 7% were unsure and only 3% couldn't answer the question because they were expecting to retire.
So, what do these figures tell us? They tell us that CPT3A is a vital professional qualification that the majority of delegates took to enhance their career prospects, complement their goals and prepare them for the future. With this mind, and at such a challenging time, it's music to our ears to hear that our course plays such a strong part in helping our delegates achieve their goals and improve the lives of vulnerable children.
Is there anything else that we could do differently or better?
We received a good range of open-ended responses on all aspects of the course. While many of them were positive, some responses highlight areas that we will develop and improve over the coming months.
On a positive note, though, here's a snapshot of the lovely comments that our delegates made.
What our delegates think
"In all honesty, I don't think you could improve. My experience in the conference and online have been superb. The resources that were given to me at the beginning of the course were very good quality, and I still dip in and out of them now [and again]."
"I was very happy with the service and support during my training."
"My experience with Real Training was one of the most positive that I have had – training-wise."
"It's a very comprehensive training package. We have put several staff through it."
"I found the whole experience in studying with Real Training excellent and the tutor feedback was really useful. Online courses sometimes fall down on the content of the feedback, but this was not the case with your tutors [as] their knowledge of the subject is obviously top class. Thank you."
"Any time I have needed support it has been timely and effective solutions [have always] been found."
"Everyone who I had contact with, face-to-face, on the phone or online was incredibly supportive. The information was clear and helpful."
"First time doing an online course, so found it a very satisfactory vehicle for learning."
"I have been studying with Real Training for many years, having recently taken the NASCO course. I feel that the quality of teaching, support and online resources to be of a very high standard. Thank you, Real Training!"
"Keep doing what you do. I thoroughly recommend Real Training courses. They are extremely high quality; the best I have studied on."
"I have been studying with Real Training for many years, having recently taken the NASCO course. I feel that the quality of teaching, support and online resources to be of a very high standard. Thank you, Real Training!"
"My experience (CCET and Access arrangements) and the experience of a member of my team (ATU) were both excellent. I think the SEND newsletter is of excellent quality too and always read it."
What our CPT3A graduates think of our course — two Q&As
A short Q&A with Allyson Pulleyn
What do you do?
"I teach some groups in curriculum support. I also do some learning mentor work, but my main role is as the school's specialist assessor."
Why did you decide to study CPT3A?
"I've always been interested in testing. My background as a mental health nurse is something that we did use as part of our screening and profiling of patients and clients. So, when I moved over to work in a school setting, it wasn't totally alien to me and I'm quite good at it really. I establish a rapport with students, I also do the initial interview before the assessment, so I can build up a very good picture of need by doing the interview and the testing, which helps us how to decide what access arrangements we need to use for those students who require them. In each instance, I try my best to ensure that all of my documentation is very comprehensive, so that there is no doubt that this student needs what they should have."
What was your favourite part of the course?
"I really enjoyed the residential part of the course. Meeting people from different educational backgrounds and the face-to-face interaction with the tutors was really good… I got a good feel for what was needed and could ask questions. Any queries that I had, I was able to put to my tutors who I came into contact with on the AAC and the CCET."
What impact has it had on your professional life?
"It's had a massive impact really. My salary's increased, first and foremost. I'm the only person in the school who can do the testing. So, I've become the person who staff come to when they have general day-to-day classroom queries about students who aren't doing very well. At first, the query has to come through the head of learning support – as I'm not the person who the referrals initially come to as I just receive the referrals. But I love my new role. It's positive and I really enjoy it.
"If I had to pare my job right back to just what I want to do, then the testing would be just it. Because I love how I can put the students at ease, which helps them to cope with the elements of pressure on them to obtain the result that they want. Obviously, we need them to be at ease first and foremost, but I really enjoy the testing."
What can someone who has taken this course offer?
"It'll enhance your expertise, really. It's quite a specialist role, so it's really good for the school, as they won't need to get someone in, they'll have someone who knows the student, and it's a truly holistic approach to testing. Obviously, we're painting a picture and testing's only one part of it. But it's a really key part and I also get to know the students; which is good."
Why would you advise someone to take the course?
"I think that it enhances your profile within the workplace. It keeps you in touch with current methods of assessment and it's really important CPD. We all need to be current in our practice. But, ultimately, if you've got this, it puts you in a very strong position in the workplace because, usually, you're the only person in a school/setting who can carry out this work. Of course, schools can pay for an EP to come in (which we used to do before I did the training), but, ultimately, it will save schools money."
A short Q&A with Adele Taylor
What do you do?
"I'm actually an assistant manager for an independent advisory SEN organisation/charity. I've been working here for nine years."
Why did you decide to study CPT3A?
"My clients are mostly from independent schools in the local area and I felt that there was the great need to move things through quickly and it's good to carry out legitimate testing as a registered practitioner. Because, in certain settings, the quality that I was seeing wasn't quite what I was expecting to see, and it also wasn't what I wanted to link myself with.
"A lot of the work that I was seeing concerned applications for education, health and care plans (EHCPs) and the testing and the children who really did need to take EHCPs weren't getting them. So, I felt that there was a lack of quality in assessment and some unnecessary assessment as well."
What would you say was your favourite part of the course?
"Definitely learning 'the who' and 'the why' of writing a successful assessment report."
What impact has it had on your professional life?
"It has definitely raised my professional standards: the background of the psychometric testing, the validity and reliability and the techie bits if you know what I mean. They have definitely given me the sound background knowledge, so that I know what to look for when choosing an assessment. I'm aware of why different parts of assessment are carried out (the necessity) and actually how to carry them out professionally and reliably."
What can someone who has taken this course offer?
"In one word: professionalism."
Why would you advise someone to take the course?
"The content and the quality of the course is far better than many of the other ones on offer. Real Training offers professionalism and if also offers support. It's not a case of passing or failing. They want you to pass, but they want you to pass with the knowledge and I felt that that came through the whole time. The course is centred around making sure that we have the underlying knowledge to know 'the why' and I felt that that was definitely a great thing from Real Training."