TSP Briefing
Issue 20
May 2018
In this issue…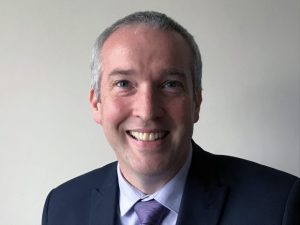 ABOUT MATTHEW BARNES – OFSTED SPECIAL ADVISER ON SEND
Matthew Barnes is one of Her Majesty's Inspectors. He has extensive experience of leading section 5 and section 8 inspections in the mainstream and independent school sectors, including special schools. He also leads local area SEND inspections. Previously, Matthew worked as a primary headteacher in four settings and across two local authorities. One of these roles was as an executive headteacher of two schools in the South West. He has also benefited from experience in two special school settings, one for pupils with social and communication needs and the other for pupils with emotional and behavioural difficulties. Matthew has three children, a daughter in mainstream schooling and two sons who both have special educational needs and attend specialist provision. Matthew completed a B.Ed. in English and Education, has National Professional Qualification for Headship (NPQH), a Professional Qualification for School Inspectors (PQSI), has completed Ofsted's SEND enhanced training and is a trained Forest School leader.
Editorial
Welcome to the first issue of Real Group's TSP Briefing. Listening to our readers' views, we have taken the very best of The Send Practitioner and updated it to deliver more of the content our readers want in a more frequent and digestible format. Subscribers will now benefit from more frequent, single-topic or interview updates across a wide range of subjects surrounding SEND, Leadership and all that matters in inclusive education. As always, this service is completely free of charge, so if you haven't subscribed yet make sure you do today ensuring you don't miss out on the news, views and updates which shape our profession.
This inaugural issue is on the most challenging of topics – Ofsted inspections – with an exclusive interview by Editor-at-Large Edward Farrow, with Matthew Barnes, OFSTED's special adviser on SEND.
I hope you enjoy the new format, and that you will share this issue with your colleagues.
As always, please contact us if you have any thoughts on what topics you would like to see covered, or what we can do to improve the TSP Briefing further.
Kind regards,
Stuart Curry
Real Group
In this issue…
What key messages are there for schools from the Ofsted and CQC local area inspection reports for SEND services?
"The key message is that there's a long way to go in terms of implementing the reforms. I think that we're all aware that the reforms themselves were very ambitious and I suppose rightly so. And so, from that perspective, they're a positive thing. But I suppose that the main message really is that when we think about our children and young people with special educational needs and disabilities, it's still a very mixed picture. Although there are pockets of very good practice that we've seen out there, the general picture is that there's a long way to go – particularly for parents and young people who are central to what's supposed to have changed with the reforms; their involvement in co-producing provision, and all those sorts of things."
The new Ofsted strategy is to be a force for improvement through intelligent, responsible and focused inspection. What do you think might change so that Ofsted is a force for improvement for pupils with SEND?
"Well, that's a very good question. I think that the messages that Amanda's already given about being cautious about how we use data, in particular when we're inspecting, are key. There also needs to be a slight shift in emphasis to thinking more about how a curriculum has an impact for all students. I think that our current inspection framework is quite special needs friendly. However, I know from the messages that I hear from the sector out there, that there is a feeling that there are perverse incentives around trying to achieve the best outcomes in terms of national benchmarks. And I suppose, if I'm thinking about outcomes for children and young people with SEND and how a curriculum can improve that, then I think that it's a very positive move that Amanda has been talking about.
In essence, I think that there's a real opportunity to really explore and understand what the positive outcomes are for children and young people across the attainment thresholds. For when we look at the quality of a curriculum and how it improves outcomes and prepares children and young people for adult life, we'll realise the great opportunities that can really take those perverse incentives away."
We've become more and more interested in supporting school leaders. With your practical, direct inspection experience in mind, what qualities can be seen in exceptional school leadership teams in relation to SEND in particular?
"I suppose that, for me, ethical leadership's important. I'm particularly impressed with those who do what's right for their community. For me, some of the best school leaders who I speak to say that, as a community school, they're there to serve all those in their community. They're not looking to fit in with Progress 8 measures; they're not looking to fit in with what Ofsted's looking for; they're looking to do things that make a difference to children and young people and their families and make the school central to the community.
Inevitably, when they do that, they improve outcomes. I've seen that in many different schools and it always shines through. In particular, when I'm inspecting, one of the questions I'll often ask school leaders is: 'what do the reforms to the Code of Practice mean to you?' And, of course, the best school leaders actually say that it hasn't changed what they do anyway. Because they put children and young people at the centre of what they do. And I'm always very encouraged when I hear that and very often when we inspect those schools, they are the schools that have a curriculum that meets the needs of different children within their school."
Does Matthew think that the reorganisation of the national college of school leadership work within the DfE could mean that NASENCO would benefit from being managed similarly to the National Professional Qualifications for Leadership. There could be many benefits for the NPQs and NASENCO if there was parity of esteem and approach. Does he agree?
"Yes, on a personal level, absolutely. The Code of Practice already says that every school should have a SENCO and, obviously, within the Children and Families Act, it's clear that there should be a SENCO and that the SENCO should be a qualified teacher. So that legislation's already out there in a way, and I suppose the question is: 'could our Ofsted framework potentially shine a light on when this isn't right?' I think that there is potential for us to think about that.
However, what I think our framework does do very well is shine a light on strong practice that improves outcomes for children with SEND. And, actually, I'd rather our inspection framework was focused on whether it's improving outcomes as opposed to whether it's ticking the legislative framework or becoming a regulatory activity. Because I think that it's good that we're about outcomes and impact.
So, do I think that there should be more parity? Yes, I do. Do I think that that's Ofsted's role? Possibly not. I think that there's more to do and, you know, some of the work that ASCL have done on that talking about ethical leadership is great. Because sometimes I think that it's good to recognise opportunities for good practice rather than think that it's Ofsted's job to come along and wave the finger when it's not right."
Some secondary schools say that they understand why Ofsted dashboards set high expectations for pupils in receipt of Pupil Premium and SEND to reach the same standards as other pupils. They also say, however, that they no longer know how they are doing for these groups of pupils compared to similar schools. What are your thoughts on this?
"What's key to our framework, is that we look at the progress that children and young people make from their starting points and we compare that to other pupils nationally. And although I can accept that school leaders might find it difficult to compare how their children are doing compared to other schools, one of the areas of special needs where that's very risky isn't to do with national consistency but with the quality of identification for young people with SEND. For example, in one local area I might find a very high proportion of children identified as having autistic spectrum conditions compared to another where they might have high proportions of social emotional and mental health difficulties. And what I'm saying here is that sometimes there isn't parity identified across local areas. So, you need to be very careful when it comes to special needs, because trying to compare like for like groups doesn't boil down to a fair comparison. This is why we use that national benchmark as a comparison, because it's the only one that is consistent and fair.
That doesn't mean to say that we're expecting children and young people with SEND, regardless of their needs, to attain the same level as other children nationally. But we might expect them to be able to make the same progress from their starting point. And I suppose that that's the thing we're looking for really. And it's only one part of what we do when we look at pupil outcomes. So, we'd never use that data on its own to make a judgement.
In short, we want to see what it looks like for those children in real life by observing them working in classes, having conversations with them and their parents and with the staff who work with them. We also need to look at the quality of assessment and, for those who have the more complex needs, that's an even more important element really. For these reasons, the data becomes less significant and other evidence becomes more significant.
So, although I can see that it's tricky for schools to compare like for like, they wouldn't be doing a fair comparison anyway even if the data dashboard showed them that they could."
We're measuring SEN pupil progress by breaking down objectives into small steps and highlighting these as met in hard copy individual pupil assessment profiles. This works well for those pupils who are unlikely to reach even 'working towards' expected attainment levels. However, how many steps of progress constitute satisfactory progress or good progress? This SENCO appreciates that this is specific to their method of tracking attainment but at their LA SENCO forum no one felt confident to answer the question.
"Yes, and I'm unsurprised by that, because there is no specific amount that we would say their tracking system equates with 'good' or not. And that's an important element of our inspection framework: that it's up to schools to do their own thing. And it's great to hear about a school that's developed its own assessment system but, you know, we will use the data dashboard, even in cases where there are children in a school that perhaps have children with attainment who are never likely to be above low. And we use that to develop lines of enquiry. But, of course, a school can present to us what they do and why, and the inspector's role within that is to:
First, establish whether the starting points being used for the school's own assessment system are robust and do reflect the children and young people who they're talking about

Secondly, establish that the steps that they're taking towards helping them make progress are ambitious and do reflect what the children need

Finally, it's a case of triangulating that against historic outcomes. How well have the children that have been through this assessment process done? How prepared are they for the next stage in their education/preparation for adulthood outcomes? Triangulating that against conversations with parents, staff, meeting the children, watching them learning and getting a sense of whether it's helping them make rapid progress against the things that they're trying to do and whether it's robust, reflects the children's needs and is ambitious.
So, it's very much a holistic look at children and young people across the inspection. So, we wouldn't say, just on the steps, that many steps would be good. Because for some children, so many steps might not be, particularly if that child is more able than others in the school anyway. So, it's very much about triangulating the evidence to make that judgement against first-hand evidence, which is all covered in the handbook."
We've heard that Ofsted's considering dropping categories such as 'good' and 'outstanding'. Is this correct and, if so, what will replace the categories?
"There's been a lot of discussion about whether 'outstanding' is a useful judgement. And I think it's the case that we've been listening very carefully to what the sector's been saying about that. A lot of school leaders think it's useful and a lot of school leaders think it isn't. So, there's a really mixed dialogue out there at the moment. So, I think that it's rightly on the table for discussion.
To be honest, I don't think that it's clear from where I'm sitting. It is more of a discussion to be had with, say, Sean Harford and Amanda Spielman. But it's part of the discussion that we're having. In particular, whether it's useful for helping the sector to improve."
Another reader would like to know your opinion and Ofsted's position on taking SEND students out of the main GCSEs in a mainstream school despite Progress 8 requirements.
"I suppose that Progress 8 is just one way that we look at progress – as I've already pointed out. And if you look at our handbook, I think that you'll struggle to find a mention of Progress 8. It doesn't mean that we don't use it, but when we're looking at children and young people's progress and their preparation for next steps, we've got to be cautious. Because for some pupils with special needs, it's right to disapply them from exams because of accessibility. However, if there was a feeling that a school was doing that to game the system or inappropriately affecting children's opportunities to achieve then that would clearly be a challenge for us to explore with leaders at inspection. And the Equality Act states that there should be fair access, wherever possible, to the same opportunities for all children.
I suppose that the answer is that it depends on each child's individual circumstances and the rationale for a school doing it. I wouldn't say that we have a position one way or the other but that we want the best for all our children."
What's the worst nightmare for an inspector when they visit a centre and look at a sample of Form 8 and what would Matthew consider to be best practice? Can you shed a bit of light by sharing examples of outstanding/satisfactory practice in regard to Form 8?
"The quick answer to this is that we wouldn't. We wouldn't say that something is best practice, because we wouldn't want everyone to rush around and try and do something that wasn't right for their setting. It goes to my earlier point about the fact that the best schools do what's right for their community and that strong sense of self-evaluation and understanding of their own community and children's needs are key.
It's about putting together a curriculum that helps students achieve the best outcomes. And that's probably how I'd answer that question really. I'm trying to dodge it in a way. We're very cautious about being prescriptive because one prescription is never a catch all."
Schools tell us sometimes that they want to ask for the advice of specialise SEN services to understand why a pupil isn't making expected progress. However, even if they have the budget to buy services in, they can't always find a specialist – for example a speech and language therapist or an educational psychologist. What should schools do when they believe they need advice but cannot access it?
"Well, our one-year report highlights the difficulty in waiting times for these types of services and that access to them has diminished. We accept that it is a problem and we can see that it's a problem for school leaders. We've seen schools do all sorts of innovative things to sort out these services for themselves. So, where a group of schools have struggled to access speech and language therapy through their central service, they've commissioned together to employ a speech and language therapist who works across a patch. This has been an effective approach for some schools.
However, I recognise that we're in a world with diminishing budgets and that this can be a challenge sometimes. I recognise that it's the responsibility of local areas to commission the right things for their area and this is something that we are looking at.
When we carry out local area inspections, we look at the quality of commissioning arrangements and strategic needs assessments to identify where there are gaps and try to tackle them. And, of course, in the best local areas, health recognises that education and care providers are commissioners, and so rather than all three trying to commission separate things to solve the same problem, they work together to find joint solutions. And that's where it's most effective.
Schools need to talk to their local authorities and their clinical commissioning groups to try and find ways that are joined up. These are the best ways to tackle issues that are often caused by diminishing funding."
There is growing concern about the mental health of young people. Schools are telling us that they are concerned that they cannot meet their mental health needs and that access to local CAMHS is patchy. We also know the Children's commissioner is deeply concerned. Would Ofsted consider inspecting, with CQC, the quality of mental health services for young people?
"It's fair to say that we're already looking at mental health, and CQC have been commissioned to look at mental health services in particular – and they've been doing some research around that. And Ofsted have been involved in the dialogue. And I think it's fair to say that we'll use the outcomes of that to consider (and 'consider' is the operative word) how we might make changes to the 2019 framework to reflect that.
What we know from the local area SEND inspections is that access to CAMHS is patchy. But sometimes, I think, there's an issue with schools feeling that CAMHS is the only thing out there to support mental health. And I think that there are a lot of schools that are doing a lot of great stuff to support children with their mental health needs while not recognising that they're offering successful provision.
It just goes back to the point I made before, which is that there are some local areas that are really starting to join things up. They're realising that health, care and schools can work together to have a package that supports children with mental health needs. And I think that it would be good if we could have something in our framework that shines a light on that best practice.
So, yes, I think that it is an important area for us to think about."
The new head of Ofsted, Amanda Spielman, seems determined to learn from the mistakes of the past. What mistakes do you think we can learn from when ensuring children with SEND get what they need in education?
"I think that, in our framework currently, a must for Ofsted is that when an inspector makes their overall effectiveness judgements, they must take into consideration the extent to which the education provided by the school meets the range of needs of pupils at the school, including those with SEND. And I think that the focus on disadvantaged pupils, the focus on SEND pupils has been slightly watered down. And we need to come back to where we were on that and shine a light back on it to get the same consistency in reporting for SEND pupils as for disadvantaged pupils. For while we've made some great steps in improving consistency, in some ways we need to re-focus on pupils with special educational needs and/or disabilities. "
News
Senior Mental Health Lead Training – how to apply for grant funding The Department for Education (DfE) has just announced the next round of grant funding for senior […]
Susana Cortez – NASENCO Susana is a SEND Specialist lecturer, she has worked with non-verbal students and has a special interest in autism, she is also very keen to develop her skills as a SENCO. Susana currently works in the Inclusive Leadership Department at West London College. She completed the NASENCO course with us in […]
This week (28 March to 3 April) is World Autism Acceptance Week 2022! Pioneered by the National Autistic Society, it aims to draw attention to the 700,000 adults and children living with autism in the UK, as well as educate those who may not be aware of the condition, and make the world a […]
Get in touch
If you have any questions, or there is anything that you want to say…