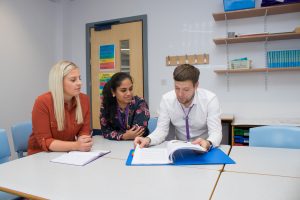 Real Training's Free Access Arrangements Update course – open to all qualified access arrangements professionals.
'This has been really useful and highlighted the changes for this year. A great refresher. Thank you.'
Tracey Birch
'This training has been very helpful, as this is the first year I've carried out EAA assessments. I've revisited it several times and taken on board advice from the forum postings.'
Sandra Sidoli
Access Arrangements Update course for 2021/2022 NOW LIVE!
This course is free of charge, as part of our ongoing aim to keep access arrangements professionals fully up-to-date and confident in their practice.
To register, complete the form below – registration only requires your email address, name and your declaration that you are a qualified access arrangements professional.
Those registering for the free access arrangements update will:
Gain 3 SASC-accredited CPD hours upon completion (provided both parts are completed).
Be fully up to date with the new JCQ guidelines and requirements for the academic year
Have access to a popular forum to ask questions of both peers and tutors about specific challenges
Be able to work through the course in their own time, as it is fully online and set out in a series of strands
Have access to a certificate of completion
This course comprises of two parts:
A presentation and accompanying video from Nick Lait, Head of Examination Services at the JCQ
Videos of test reviews and MCQs
Video guides on completing Form 8
Test reviews to check your understanding
How is the course delivered?
This update is delivered fully online, hosted on our bespoke virtual learning environment, Campus Online.
This update consists of two parts. The first part (presentation of the access arrangements updates) is open to anyone who has an interest in the updated legislation regarding exam access arrangements. The second part (activities reviewing completion of tests and reviews) is aimed at professionals holding a QTS-approved level 7
access arrangements qualification
. Only those holding such a qualification will be able to attain the SASC-accredited CPD hours. This is in no way a standalone qualification and does not in itself confer the right or ability to carry out access arrangements.
When is the new course available?
The update for 2021/2022 is available now! Please complete the form above to register.
Real Training is the UK's leading provider of Access Arrangements training through our CPT3A course. This course is flexibly delivered either fully online or blended. Visit our web page to find out more.