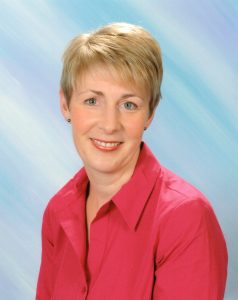 Delegate name: Alison Szalay
Course: Enquiry based SEND Practice module
Qualification achieved: MEd in SEND
Project title: Top Banana: The IPEELL Approach
About Alison: With a background as an early years teacher, Alison had specialised in helping pupils with literacy difficulties. Alison previously worked as an advisory teacher for literacy and taught family literacy. As her career progressed, she specialised in teaching pupils with cognition and learning needs, particularly dyslexia, and now works as a specialist advisory teacher for a local authority and a SENCO. Having previously studied postgraduate qualifications in dyslexia and the National Award for SEN Coordination (NASENCO), Alison completed her MEd with us at Real Training. The Enquiry-based SEND Practice module gave Alison the opportunity to explore writing composition and metacognition in depth. It informed a better understanding of how to target writing composition and led to the opportunity for Alison to work as a trainer for the National Literacy Trust, and to study the area in more depth through a PhD.
Project goals: This enquiry focuses on researching the impact of a metacognitive writing intervention, known as IPEELL. This is a mnemonic for 'Introduction, Point, Explanation, Ending, Links, Language' to target compositional skills for a group of key stage two pupils with special educational needs (SEN). The project aimed to discover the impact of the intervention on three main elements; writing composition, attitudes toward writing and pupils' metacognition about writing.
Alison considered four main questions when approaching her research:
How do pupils feel about writing?

What do the pupils know about how to improve their writing and how to be a writer?

What impact does the intervention have on the pupils' writing composition?

What are the resulting implications for school?
To answer these questions Alison carried out the following steps in her project:
Identifying a group of key stage two pupils attaining below age-related expectations in writing

Finding out more about the pupils' understanding of their own learning in relation to writing

Developing and implementing a writing intervention over a five-week period

Evaluating the impact of the intervention and identifying implications for the pupils and school
Research findings: In line with the four questions highlighted above, the findings for this project were divided into sections.
First of all, Alison looked to understand how the intervention impacted the five pupils' attitudes towards writing.
The second finding looked at pupils' knowledge of how to improve their writing and be a writer.
The evidence suggested that the project had some positive impact on the pupils' knowledge of this, with indications of increased metacognitive knowledge and control post-intervention. The data suggested that pupils knew more about the features of writing composition, talked about their own actions when writing and used their metacognitive knowledge about writing by applying the target writing features.
Thirdly, Alison's findings surrounding the impact on the pupils' writing composition showed the following:
Alison created a bar graph to show the comparison of each area pre and post-project, you can see this below: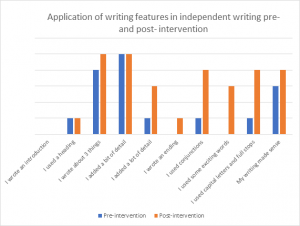 Project impact at school:
As part of Alison's project she also considered what the resulting implications for the school were. She highlights that "given the evidence base that the school now has, an intervention using this model should be considered for other pupils who experience difficulties with writing composition. It will be important to adapt the writing focus and features so that they are appropriate for their age and learning level."
Alison created an action plan to be carried out in the school in the six months following her project implementation. The main outcome was the delivery of 'Top Banana' as an intervention to target improved writing, delivered by teaching assistants, with class teachers remaining responsible for high-quality whole-class teaching.
In conclusion, Alison states "In addition to my own professional development, this enquiry has built on and developed practice at school".