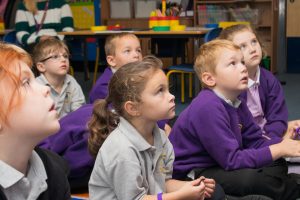 You will need to complete the Enquiry-based SEND Practice 60-credit module to obtain your
You will undertake a piece of enquiry-based professional action research, which will help you to examine your own practice and that of others.
By the end of this module, you will have written four analytical pieces that clearly demonstrate your understanding of how enquiry, research and critical reflection significantly improve the outcomes of those with whom you work.
Develop the skills and knowledge to undertake organisational change via a structured, ethical enquiry-based project.
Engage directly with your professional setting through practical activities structured around our unique learning experiences.
Work towards the completion of your Action Research project through supporting theories and reflection and by taking part in example activities.
Learn with experienced undergraduate and postgraduate supervisors.
Enquiry-based SEND Practice completes your MEd. We welcome applicants who wish to transfer credits.
Develop professional expertise
Focus your research on a topic that is of relevance to you.
Undertake an enquiry-based research project that makes a difference.
Apply the enquiry-based approach to practice.
Complete your Master of Education (MEd).
Progress your professional career.
Consider publishing your work with Real Publishing.
Add real value to your school
Develop practical organisational change and enquiry skills, tutored by experienced researchers.
Access a wealth of practical resources, academic research, and interactive materials to support you.
Develop your confidence to lead a process of enquiry and research.
Harness your day-to-day professional experience and make a positive difference to your workplace.
Engage with flexible e-learning
Study online and integrate your learning into your working day.
Work at a time and pace that suits you.
Take part in a flexible module that draws on a broad range of learning tasks and practical experience.
Work closely with your peers and dedicated tutors online.
Experience mentoring and work placements that really complement your learning.
Access our sophisticated online learning platform and utilise the latest technologies: directed reading, structured learning logs, online discussion, online questionnaires, peer evaluation, student forum and webinars (with tutors and guest lecturers).
Accrue credits towards your MEd
Attain the final 60 credits towards your MEd when you successfully complete this module.
Connect with your peers
Obtain exclusive access to Campus OnlineTM.
Interact with your peers using our advanced learning platform and our unique student forum.
We will ensure that you never feel lonely or unsupported in your studies.
Liaise with experienced tutors
Enjoy dedicated specialist support from a broad range of experienced tutors.
Work with a learning coach, professional tutor and receive dedicated support from the tutor team – made up of experienced SENCOs/SEN consultants/educational psychologists (EPs).
Our SENCOs and EPs know the education sector inside out.
Choose a start date that suits you
Cohorts begin in January, May, or September.
The next cohort begins on 15 January 2024. Book and enrol before 15 January 2024 to join our next cohort.
Strand one: Understanding enquiry in the organisational context
Begin your research journey by examining the theoretical underpinnings of the concept of 'enquiry' and 'research'.
Explore 'action research' and create a 'research diary' to record your perspective on the process.
Share your thoughts with other delegates – using the information that you have just gathered – and sketch out research topics/areas that you might pursue in your own setting.
Look at the application of action research (the RADIO model) and use it as a framework for understanding the relationship between research and organisational change.
Consider the ethical implications of your proposed research activities as you develop your project.
Examine the ethical principles involved in this type of research and consider how you will address them as you proceed through the module.
Strand two: Negotiating your research
Develop an 'action research' proposal that differs from other research methodologies and work with colleagues to agree on the way forward.
Develop a holistic research proposal using Campus OnlineTM documents that encourage you to keep your eye on the bigger picture.
Initiate your project in line with the RADIO model steps, gather the required information, and submit your project proposal at the end of the strand.
Develop your project through three tutorials, close discussion with the leadership team in your setting and project stakeholders.
Submit your project proposal and gain ethical approval from your tutor team.
Strand three: Gathering and analysing data
Start to gather and analyse information and data in the wake of your project proposal submission.
Develop and submit a draft of your literature review and the research that you have carried out on the current policies in your setting.
Gather research data as outlined in your proposal.
Develop your analytical strategy and complete an initial analysis of your data in preparation for the action planning stage of the next strand.
Strand four: Processing information and action planning
Move on to the RADIO phase known as the 'organisational change mode'.
Share your data analysis with stakeholders, reflect upon what it might mean for your organisation as a whole, and work with your stakeholders to put together an intervention plan that delivers measurable results.
Strand five: Implementation, evaluation, and reflection
Implement and evaluate the final stages of the RADIO model.
Reflect on the research and development processes that you have undertaken with your colleagues and stakeholders.
Think about how you have met your proposal objectives, the challenges that you have faced, and the accommodations and adjustments that you have made along the way.
How will you be assessed?
You will need to produce:
Critical Analysis 1 (2000 words)

A critique of a published paper that includes:

A succinct summary of your paper and the main findings

Identification and critique of the research paradigm used

Critique of the design and methods used

Critique of findings

You will be provided with a choice of papers from which you can select one for the critique.

Critical Analysis 2 (3000 words): Literature review of the topic area for your research which demonstrates how key literature is used to formulate research aims and questions for the subsequent enquiry.

Practice Analysis 1 (2000 words): Research and ethical proposals. You will complete a donated proforma that gives details of the following:

Research questions and aims

Methodology

Methods

Data collection

Data analysis

Ethical considerations: voluntary informed consent, right to withdraw, confidentiality

This proposal must be approved by your tutor and independently by another tutor who does not know your work. Data collection can only take place after approval.

Practice Analysis 2 (5000 words or equivalent): Account of a piece of enquiry-based SEND practice that includes:

An introduction, outlining the topic area and including a summary of key literature

Description of the methodological approach

Use of the RADIO model as the framework for negotiation and planning

The way in which research ethics were addressed

A description and justification of the methods used

A presentation of the findings based on analysis of the data

A critical discussion of the outcomes of the research, including identification of future lines of enquiry related to the topic area, reflexivity, an appraisal of the strengths and limitations of the enquiry carried out and reflections on learning and professional practice

The above-assessed requirements must be completed in the order shown above, in order to ensure you draw on key literature to inform research aims and questions, before planning and negotiating their project in more detail.
Where indicated by your tutor, you may submit multimedia resources that you have produced within your applied practice as part of your final portfolio of evidence.
How is the module delivered?
You will develop your professional knowledge and understanding through practice – it's the best way to learn.
Campus OnlineTM will support you with content that complements your learning every step of the way.
Study with some of the finest practitioners around and engage with outstanding content and practical activities that truly enhance your professional development.
Do you have an undergraduate degree?
You will need one to take the Enquiry-based SEND Practice module. You will also need to have completed 120 Masters-level (M-level) credits.
Already working in an education setting?
You will get the most out of the Enquiry-based SEND Practice module if you work in an education setting with children, young people or adults. In some circumstances, we can take delegates who are working in other organisations such as Local Authorities or academy chains.
Or do you require access to an education setting?
You will need to get written permission from a senior member of staff to regularly access a setting. We will show you the best way to do this, enabling you to carry out our learning activities in your chosen setting.
Please note
As part of this process, you will also need to complete a Disclosure and Barring Service (DBS) check. Visit GOV.UK for more information.
Are you based in an international setting?
The Enquiry-based SEND Practice course is available online and can, therefore, be completed anywhere in the world. Please click here for advice on payment options and other information relevant to those studying outside of the UK.
We offer a flexible range of fees to suit your finances:
Single payment of £2,495 + VAT.
Three monthly instalments of £857 + VAT.
Ten monthly instalments of £262 + VAT.
For further information please visit the payment FAQ page found here.
Speak to us (01273 358080) or make a booking.
When does the course start?
Cohorts begin in January, May, or September.
The next cohort begins on 15 January 2024. Book and enrol before 15 January 2024 to join our next cohort.
Please note: as it takes time to process your application and payment, we strongly recommend to register as soon as possible, so that you don't miss the next intake.
How long does it take to complete the course?
The duration of this module is up to one year.
We do understand, however, that circumstances can arise that could prevent the course being completed in this time period. If this is the case, an extension can be arranged in conjunction with the admin team and your tutor.
Do you have a research topic in mind?
If you are ready to complete your MEd and wish to talk to us about the possible enquiry or research topics, please do give us a call.
You do not have to have a topic idea in mind when you enrol in this module.
'Jane has been a huge support, is genuinely interested in your progress and has been helpful throughout. I am very happy to have had Jane as my tutor.' – Penelope Kay
'Campus Online is easy to access and clearly organised so that you always feel you can retrieve valuable and effective resources.' – Amanda Thomas
'All of the assignments were enjoyable to complete!' – Marion Frankland
Module Leader
Dr Jane Yeomans
Dr Jane Yeomans is a teaching fellow at the University of Birmingham and a vastly-experienced EP. She continues to be active in other Higher Education roles as External Examiner for the University of Manchester's professional training course and for the University College London post qualification doctorate in educational psychology. She is a distinguished academic with over 30 years of experience as a teacher and EP in nursery, primary and secondary settings.