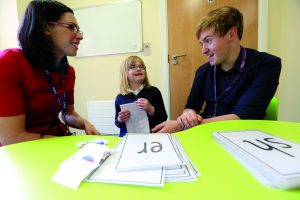 'Every child has a different learning style and pace. Each child is unique, not only capable of learning but also capable of succeeding.'
Robert John Meehan
The Master of Education (MEd) Professional Practice in Dyslexia and Literacy is a programme designed to offer those who have studied with Dyslexia Action Training a route to gain a Masters qualification. The programme is quality assured by Middlesex University and you will receive a Middlesex University award upon completion.
How to Achieve an MEd Professional Practice Dyslexia and Literacy?
There are two possible routes to join this programme:
Route 1: To join the Dyslexia and Literacy programme, you should have already completed 120 credits at Level 7 with Dyslexia Action Training You will then be able to enrol on the 60 credit Enquiry-based SEND practice module with Real Training to complete your Masters level qualification.
---
Route 2: Delegates who have completed the Certificate of Competence in Educational Testing (CCET) and have been registered with the British Psychological Society (BPS) as a qualified test user on the Register of Qualifications in Test Use (RQTU) can enrol into this Masters but will be required to complete specific modules:
---
Please note: The Level 7 Professional Postgraduate Programme is currently being updated and restructured for an early 2022 start. Further details will be available soon. In the meantime, a brief overview of the programme and acceptable routes to achieve the MEd can be found here.
Enhance your professional expertise
Further, develop your professional skills and knowledge through work-based project implementation that will enable you to support other practitioners in educational settings.

Research and critically analyse aspects of Dyslexia and Literacy in greater depth.

Develop your professional practice using the findings of published research and via critical analysis of the evidence base for Dyslexia and Literacy interventions.

Further, develop your skills as a professional practitioner-researcher.

Develop different models of partnership with an understanding of the place of power and ethics in educational settings and in listening to and understanding adults and children, parents and carers.
Engage with flexible e-learning
Study online and integrate your learning into your working day.

Work at a time and pace that suits you.

Take part in a flexible module that draws on a broad range of learning tasks and practical experience.

Work closely with your peers and be mentored by experienced tutors online.

Access our sophisticated online learning platform and utilise the latest technologies: video and multimedia content, case studies and problem-based scenarios, directed reading, structured learning logs, online discussion, online questionnaires, peer evaluation, student forum, and webinars (with tutors and guest lecturers).

We will ensure that you never feel lonely or unsupported in your studies.
Liaise with experienced tutors
Enjoy dedicated specialist support from our experienced tutors.

Receive dedicated support from our tutor team – comprising experienced specialist teachers and educational psychologists.
What is the structure of the programme?
Please note:
Our Level 7 Professional Postgraduate Programme syllabus is currently being revised for an April 2022 start. Further details will be available in early 2022. Please register your interest at trainingcourses@dyslexiaaction.org.uk (stating area of interest – SpLD Teaching, Assessment or MEd) and we will contact you as soon as the information is available.
Current participants with enquiries should contact pgmail@dyslexiaaction.org.uk