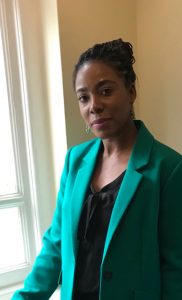 An Interview with Taneisha Pascoe Matthews – Full MEd
Taneisha Pascoe Matthews has a special interest in Autism, she is a mother of two boys who are both autistic and she uses her knowledge and social platforms to advocate for children with Autism whilst also working in a London Secondary school. Taneisha began her studies with us in May 2015. She completed her full Master of Education in SEND here at Real Training. Taneisha completed the National Award, Autism Spectrum Conditions module, CPT3A and Enquiry to achieve her full Masters. After 4 years of study over a variety of modules, here is her journey through our MEd SEND programme and her thoughts on studying with Real Training.
What made you choose the Real Training courses over other options?
Real Training was the obvious choice for me based on recommendations from two teachers at my school who were completing the National Award for SEN Coordination. They spoke well of the course by highlighting both the practical aspects as well as theoretical areas. Within a year they had moved on to lead SEND Departments which created the opportunity for me to get on the course. The flexibility it afforded with 100% online was exactly what I needed. Once I completed the first course with Real Training and experienced first-hand the amazing culture of support and the readiness to confidently undertake the SENCO role, I decided that I was going to complete a full master's degree.
What was your experience of learning with Real Training?
The learning experience at Real Training exceeded my expectations. The courses I completed were well written and I was surprised by the skills gained with the courses being 100% online. I was supported throughout by my tutors and it was easy to navigate the Campus Online platform.
How have the courses helped make an impact at school?
I completed the NASENCO course in 2016 and by 2017 I was hired in my current school as Head of Learning Support. I have received some lovely comments from staff about the impact on their teaching based on CPDs I have led. While completing the Enquiry-based project I did an investigation into the ability of staff to make reasonable adjustments for autistic pupils. This has become part of my advocacy on social media platforms. I host a Facebook page called One of Many Autism Voices, providing strategies and UpToDate information for families and educators. As a school, we are known to be a school making reasonable adjustments to SEND learners.
How have the courses helped develop you as an educational professional and what do you hope to achieve with the new knowledge/skills in the future?
The courses I have completed have developed my SEND knowledge to expert level and provided the skills to complete my job with the level of competence that is needed to make a difference for young people. I have been promoted to Assistant Headteacher in the past year and have spoken at several educational conferences both locally and internationally (via Zoom). I am now the specialist assessor for exam dispensations at my school.