Our SEND programme enables you to achieve a PostGraduate Certificate, PostGraduate Diploma, or the full Masters of Education by studying a variety of modules to enhance your understanding of Special Educational Needs and Disabilities (SEND).
Tailor your programme of study to suit your interests and your setting's particular needs with our wide range of skills and knowledge modules, such as Autism Spectrum Conditions, Speech, Language and Communications Needs, and more!
Whether you'd like to gain a PGCert, a PGDip, or the full MEd SEND, we can help you to achieve a respected qualification through flexible study that works around you.
Why take this qualification?
This programme was developed and is delivered and assessed by Real Training, awarded by and quality assured by Middlesex University.
Book your place on our part-time programme and create a pathway that suits you. Modules are worth from 30 to 60 credits each. As this is a part-time programme you can take a maximum of 90 credits in one academic year. You need 180 (level 7) credits to obtain your MEd.
Contact us if you wish to transfer Masters-level (M-level) credits from another institution in line with our Accreditation of Prior Learning (APL) policy.
Cohorts begin in January, May, or September.
The next cohort begins on 15 January 2024. Book and enrol before 15 January 2024 to join our next cohort.
Add real value to your educational setting
Bring expertise in setting and save money.
Develop practical skills, tutored by experienced professionals.
Access a wealth of practical resources, academic research and interactive materials to support you.
Develop your confidence to support the most vulnerable and complex children in your school effectively.
Develop real competence
Use efficient and effective online learning with embedded activities that relate to actual case studies.
Take part in self-paced study time of up to 25 hours based on HCPC proficiency standards.
Embrace a supportive online community with tutor-supported learning.
Enhance professional expertise
Demonstrate your competence.
Develop a confident working knowledge of the law in this area.
Work effectively alongside families and professionals to support young adults.
Make a firm contribution to developments and initiatives.
Learn on the job
Harness your day-to-day professional experience and work with your tutor to develop your skills.
Theories, reflection, and activities will help you to explore aspects of your own and others' practice.
Engage with flexible e-learning
Study online and integrate your learning into your working day.
Work at a time and pace that suits you.
Take part in a flexible module that draws on a broad range of learning tasks and practical experience.
Work closely with your peers and dedicated tutors online.
Experience mentoring and work placements that really complement your learning.
Access our sophisticated online learning platform and utilise the latest technologies: video and multimedia content, case studies and problem-based scenarios, directed reading, structured learning logs, online discussion, online questionnaires, peer evaluation, student forum and webinars (with tutors and guest lecturers).
Take MEd modules in your own time and pace
Modules are either 30 or 60 credits.
We offer an unrivaled range of follow-on, practice-led SEND courses that count towards your MEd.
Get 180 credits and the Master in Education is yours.
Connect with your peers
Obtain exclusive access to Campus OnlineTM.
Interact with your peers using our advanced learning platform and our unique student forum.
We will ensure that you never feel lonely or unsupported in your studies.
Liaise with experienced tutors
Enjoy dedicated specialist support from a broad range of experienced tutors.
Work with a learning coach, professional tutor and received dedicated support from the tutor team — made up of experienced SENCOs/SEN consultants/educational psychologists (EPs).
Our SENCOs and EPs know the education sector inside out.
Choose a start date that suits you
Cohorts begin in January, May, or September.
The next cohort begins on 15 January 2024. Book and enrol before 15 January 2024 to join our next cohort.
Modules that make up the MEd and SEND Programme
What makes up a PGCert, PGDip, and the MEd SEND?
A PGCert requires 60 credits, a PGDip requires 120 credits, and the full MEd SEND requires 180 credits.
There are three different types of PGCerts you can achieve, the PGCert SEND, the PGCert in your chosen specialist subject, or the PGCert SENCO.
Below is a chart explaining the types of PGCerts you could achieve.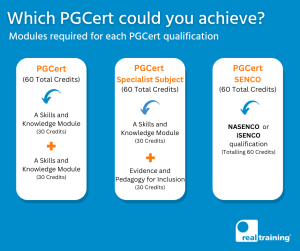 If you study two Skills & Knowledge modules, you will achieve a PGCert SEND. Below is a list of our Skills & Knowledge modules:
If you study a Skills & Knowledge module, and the Evidence and Pedagogy for Inclusion (EPI) module, you will achieve a PGCert in your chosen specialist subject. The EPI module allows you to take a deeper dive into your chosen Skills & Knowledge module. Therefore, if you were to study Autism Spectrum Conditions along with the Evidence and Pedagogy for Inclusion module, you would be awarded the PGCert Autism Spectrum Conditions.
If you have achieved the National Award in SEN Coordination or the International Award for SEN Coordination, you will have 60 credits, and will achieve a PGCert SENCO.
If you would like to upgrade your qualification from a PGCert, then you most certainly can! To achieve a PGDip, you would need to achieve 120 credits overall. This could be made up of three of the Skills & Knowledge modules and the Evidence and Pedagogy for Inclusion module, or the NASENCO or iSENCO plus two of the Skills and Knowledge modules.
To achieve the full MEd SEND, you would need to have achieved the above and then studied the Enquiry-based SEND Practice module, giving you 60 credits, for the overall 180 credits.
Below is a chart, which shows how many credits you need.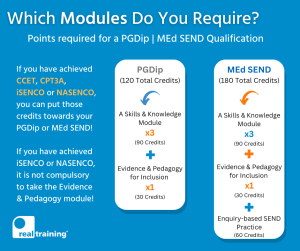 If you are unsure what overall qualification you would like to achieve, or what modules you'd need to complete to achieve this, please contact us and we would be happy to discuss your options.
How will you be assessed?
You will need to produce:
Pre- and post-course self-assessment of skills, knowledge, and confidence.
Continuous self-evaluation via questionnaires.
Written contributions to collaborative discussion.
Final tutor evaluation of competence, based on activity submissions.
Where indicated by your tutor, you may submit multimedia resources that you have produced within your applied practice as part of your final portfolio of evidence.
How are modules delivered?
You will develop your professional knowledge and understanding through practice — it's the best way to learn.
Campus OnlineTM will support you with content that complements your learning every step of the way.
Study with some of the finest practitioners around and engage with outstanding content and practical activities that truly enhance your professional development.
Do you have an undergraduate degree?
To join the SEND Programme, you would need one.
Already working in an education setting?
You will get the most out of the Master of Education and SEND Programme if you work in an education setting with children, young people, or adults.
Or do you require access to an education setting?
You will need to get written permission from a senior member of staff to regularly access a setting. We will show you the best way to do this, enabling you to carry out our learning activities in your chosen setting.
As part of this process, you will also need to complete a Disclosure and Barring Service (DBS) check. Visit GOV.UK for more information.
Important note
Dyslexia – Professional Report Writing, CCET, CPT3A, and AAC have particular eligibility requirements outside of the above. Please see these courses to find out more.
Are you based in an international setting?
This course is available online and can, therefore, be completed anywhere in the world. Please click here for advice on payment options and other information relevant to those studying outside of the UK.
We offer a flexible range of fees to suit your finances.
The cost of a Master in Education in SEND (MEd SEND) with Real Training (made up of 180 credits) varies. Typically, four modules (of 30 credits each) and the obligatory Enquiry-based SEND Practice module will cost £7,795 + VAT (when taken over two years).
To find out the exact cost, click on the red 'Make a booking' button, select the mandatory Enquiry-based SEND Practice module, followed by the particular modules that you want to build into your MEd programme.
Click on the blue 'Courses and qualifications' tab at the top of this page to see a complete list. Alternatively, use our 'Course browser' to search by interest, goal or qualification.
For further information please visit the payment FAQ page found here.
Discounts are available on bespoke courses. Call 01273 358080 to register your interest.
Speak to us (01273 358080) or make a booking.
When does the course start?
Cohorts begin in January, May, or September.
The next cohort begins on 15 January 2024. Book and enrol before 15 January 2024 to join our next cohort.
Please note: as it takes time to process your application and payment, we strongly recommend to register as soon as possible, so that you don't miss the next intake.
How long does it take to complete the full MEd SEND programme?
It depends. Most delegates tend to complete the programme within 2-5 years. It usually takes a year to complete a module, however some delegates will choose to study 2 modules at a time. It also depends if a delegate has existing credits that they can bring into the programme, for example from our CCET, CPT3A, NASENCO or iSENCO courses.
Delegates may be able to bring in credits they have achieved with another provider. If you think this could apply to you, find out more about Accreditation for Prior Learning.
You are able to take breaks between the modules if need be, however as long as you return to complete the MEd within 5 years, your credits will remain valid.
Meet the Module Leader
Katie Hickin

Katie has worked within educational settings for a decade as a teacher, a SENCO and a member of the Senior Management Team. Now working for Real Group, Katie leads and tutors on the SEND Programme, including the NASENCO and iSENCO qualifications.