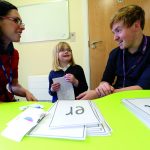 Last month, we announced that alongside the National Professional Qualifications (NPQs), we were hoping to run a July cohort in 2020 for our National Award for SEN Coordination (NASENCO), subject to approval from Middlesex University.
We are delighted that we can now announce the July 2020 cohort for NASENCO has been officially approved, and will, therefore, go ahead, starting on 15 July.
We understand that this academic year has been like no other, and many educational professionals have found themselves with an unexpected opportunity to get ahead with their career development. In addition, with uncertainty still surrounding how face-to-face learning institutions will be operating come September, many are turning to Real Training to deliver their course online flexibly, and with the knowledge that this was how they were designed from the start.
Our regular September cohort is still available as normal, so if you feel this date would suit you better, you can book your place today by visiting our online booking form. Registration only takes a couple of minutes.
If you're already booked on to our September cohort and have been thinking about moving to our July start date, but perhaps haven't decided yet, there is still time. Please be advised that places for our 15 July cohort may be limited, so it is advisable to get in touch as soon as possible, we'd be happy to talk through which start date could work best for you. Give us a call on +44 (0)1273 358080 to discuss with a member of our enquiries team. Alternatively, please feel free to contact us here.