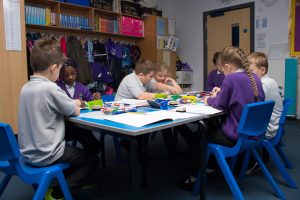 Many schools have been thinking about how they manage transitions sensitively and kindly for their pupils and staff. Recent evidence provided by Optimus Education and the Education Endowment Foundation has revealed the importance of providing teachers and senior leaders opportunities to continue their professional development (CPD) to help support pupils with social, emotional, and mental health needs. Over the past months, the education support team at our sister company, Dyslexia Action, has been working on new CPD courses to allow professionals to develop and enhance their current skills and understanding of Social, Emotional, and Mental Health (SEMH). This week, they launched their first CPD SEMH course, The Emotionally Connected Classroom, with the first cohort beginning on 18 November.
The Emotionally Connected Classroom
This Level 5 unit aims to provide an understanding of the impact of emotions on the thinking brain and its implications for learning. It aims to provide an introduction to key elements of current research and practice in mentalisation theory (understanding the mental state of oneself and others) and emotional coaching. The importance of connectedness and relationships is emphasised throughout. For more information on this course, please click here.
How is The Emotionally Connected Classroom online course delivered?
The Emotionally Connected Classroom online course will be delivered on Real Group's Campus Online learning environment. Campus Online offers you the flexibility to organise your time to fit around your professional and personal commitments. It also saves you the time and expense of travel and classroom attendance.
Although the course is fully online, you will be supported every step of the way by an experienced tutor and have opportunities to read and contribute to the discussion forum on the course site. The forums help participants to learn, test out, develop, and refine ideas.
Participants joining Campus Online will be given access to a wide range of e-learning resources. These include presentations, articles, exercises, videos, and follow-up activities and tasks for participants to carry out.
Accreditation
The Relating Classroom online unit has been submitted for accreditation which is due to be awarded by The CPD Standards Office in November 2020.
Progression
The Emotionally Connected Classroom is part of Dyslexia Action's Level 5 SEMH CPD Programme. Eight further units focused on SEMH are currently under development.
How do I register for the November cohort?
The Emotionally Connected Classroom is available to book for the 18 November cohort. To register, please access the Dyslexia Action online booking form here. Alternatively, please feel free to email Dyslexia Action or call on +44(0) 1784 222304 if you have any questions.