You must have qualified teacher status (QTS) to take up a teaching post in England in a:
Maintained primary school.
Maintained secondary school.
Maintained special school.
Non-maintained special school.
The Teaching Regulation Agency (TRA) is an executive agency, sponsored by the Department for Education. They have responsibility for the regulation of the teaching profession, including misconduct hearings and the maintenance of the database of qualified teachers.
Once you have QTS, and are employed to teach in a maintained school in England or Wales, you will be paid under the school teachers' pay scales. You will be subject to the performance management arrangements in schools in the same way as any other qualified teacher.
Getting evidence of your qualified teacher status (QTS) is a really simple procedure. All you need to do is visit the TRA Teacher Services web page:
https://teacherservices.education.gov.uk/SelfService/Login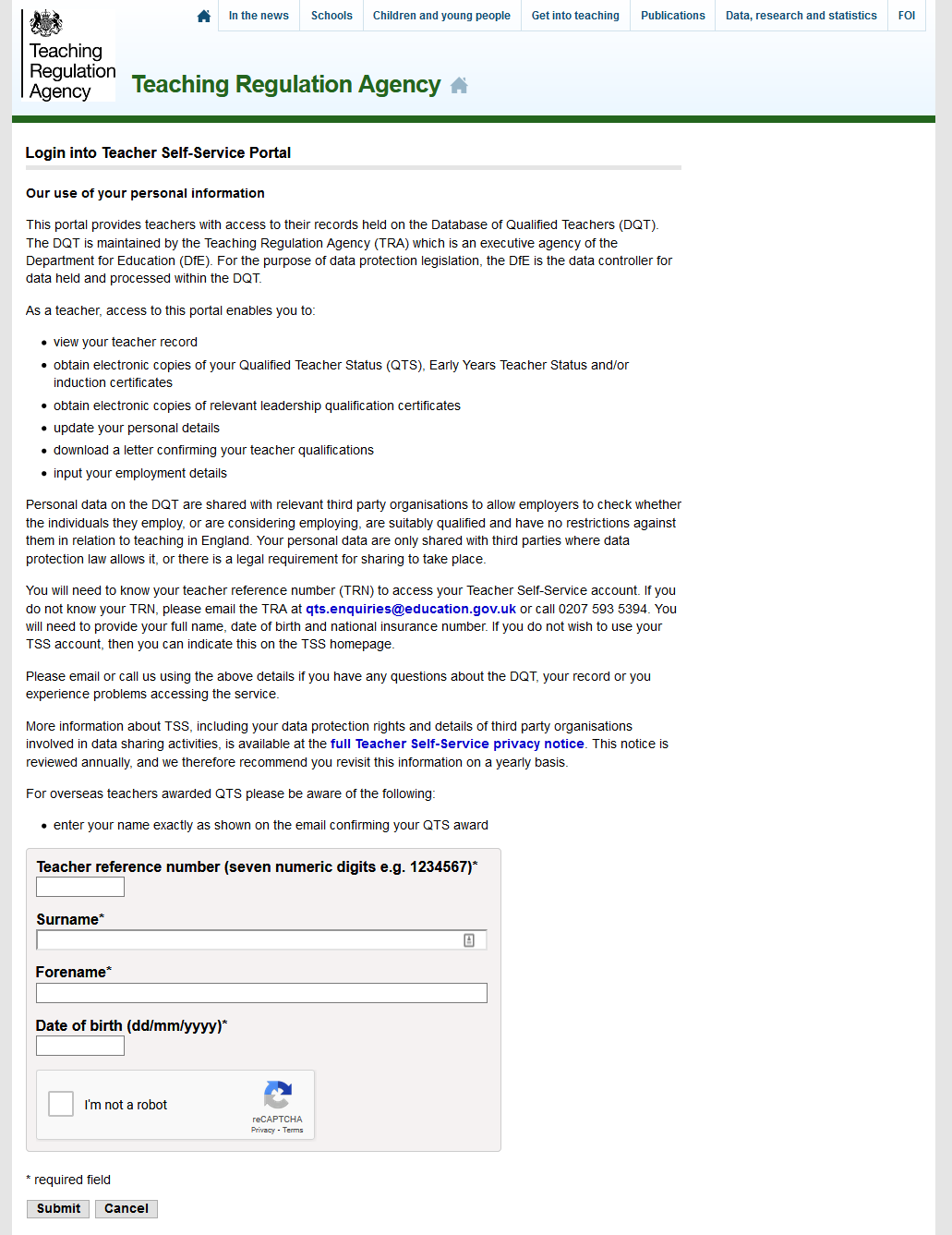 Here, you will need to enter:
Teacher reference number
Please note that you need to enter your number without "/" or "RP". For example, if your number is "RP 99/12345", just enter "9912345". If your number is "68/12345" just enter "6812345". If you don't know what your teacher reference number is, this can usually be found on your payslip or teachers' pension documentation; alternatively, please contact the DfE on QTS.enquiries@education.gsi.gov.uk or 0207 593 5394.
Surname
Forename
Date of birth
(Please note 'that UK National Insurance number' is NOT a required field so you do not have to enter this)
(You will also need to fill in the characters in the security box at the bottom)
Once you have signed in, there are links on the right of the screen, under the yellow and green box. Click on these to download a confirmation letter and your certificate/s: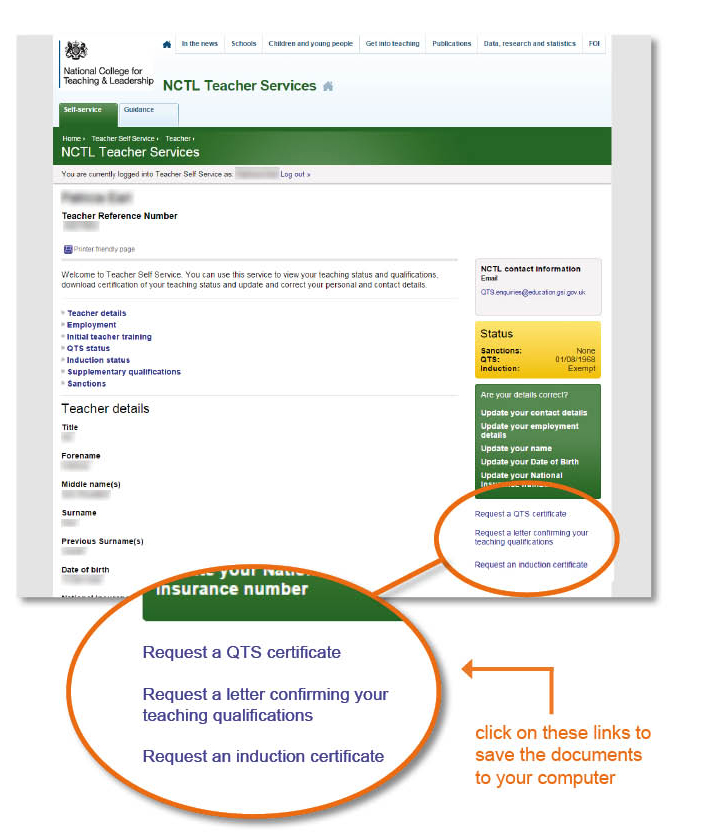 Clicking on these links will bring up the documents which you can save and/or print as evidence.
We hope this is helpful. If you are having problems with that site or getting your teacher reference number, please contact the DfE directly via QTS.enquiries@education.gsi.gov.uk or 0207 593 5394.
Please note that the majority of teachers who obtained QTS after May 1999 are required to complete an induction period of three terms satisfactorily in order to teach in relevant schools in England. Those teachers will need to demonstrate they have completed this period successfully. For more information on induction for newly qualified teachers please see: www.gov.uk/government/publications/induction-for-newly-qualified-teachers-nqts