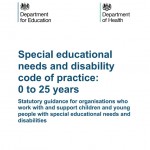 admin
Edward Farrow
We are pleased to announce that the final SEND Code of Practice and Regulations were placed before Parliament last week. The Code is rather a large document, but we've had a quick look through and we're really pleased to know that we fully comply with the changes that are due to take place this September.
If you are interested in the particular detail of the Code and Regulations – and how they apply to us – please take a look at the excerpts that we have taken from the Code and the Regulations respectively.
Excerpt from the Code of Practice
6.85 The SENCO must be a qualified teacher working at the school. A newly appointed SENCO must be a qualified teacher and, where they have not previously been the SENCO at that or any other relevant school for a total period of more than twelve months, they must achieve a National Award in Special Educational Needs Co-ordination within three years of appointment.

6.86 A National Award must be a postgraduate course accredited by a recognised higher education provider. The National College for Teaching and Leadership has worked with providers to develop a set of learning outcomes (see the References section under Chapter 6 for a link). When appointing staff or arranging for them to study for a National Award schools should satisfy themselves that the chosen course will meet these outcomes and equip the SENCO to fulfil the duties outlined in this Code. Any selected course should be at least equivalent to 60 credits at postgraduate study.
Read the Code of Practice in full.
Regulations
Prescribed qualifications and experience of SENCOs

49. (1) The appropriate authority of a relevant school must ensure that the SENCO appointed under section 67(2) of the Act meets all of the requirements in either paragraph (2) or (3).

(2) The requirements in this paragraph are that the SENCO–

(a)is a qualified teacher;

(b)if required to complete an induction period under regulations made under section 135A of the Education Act 2002(1), has satisfactorily completed such an induction period; and

(c)is working as a teacher at the school.

(3) The requirement in this paragraph is that the SENCO is the head teacher or acting head teacher (or equivalent in the case of an Academy school) of the school.

(4) Where a person becomes the SENCO at a relevant school after 1st September 2009, and has not previously been the SENCO at that or any other relevant school for a total period of more than twelve months, the appropriate authority of the school must ensure that, if the person is the SENCO at the school at any time after the third anniversary of the date on which that person becomes a SENCO, that person holds the qualification, mentioned in paragraph (5).

(5) The qualification referred to in paragraph (4) is a postgraduate qualification in special educational needs co-ordination, for the time being known as "The National Award for Special Educational Needs Co-ordination", awarded by a recognised body.

(6) For the purposes of paragraph (5), a recognised body is a body designated by the Secretary of State by order made under section 216(1) of the Education Reform Act 1988(2);