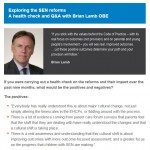 admin
Edward Farrow
We were really pleased to welcome Brian Lamb back to The SEND Practitioner well over a year since he first graced the pages of our inaugural issue. Since then, the SEN reforms have made some qualified progress. However, on balance, the sheer scale of the cultural change that is afoot reflects on a timescale more rooted in years than months. And it is against this background that a health check of the state of the current reforms reveals both positives and negatives.
More specifically, as Mark Blois pointed out in the ninth issue, Education, Health and Care Plans (EHCPs) and personal budgets continue to cause concern for some of our readership, against a broader palette of ongoing tweaks, adaptions and reinventions that many schools will need to make over the coming years.
However, what is interesting, and what comes across in Brian's analysis, is that 'many' does not mean 'all'. In that, I mean that there are some schools who have not been troubled by the reforms at all. One such school was Frederick Bremer – the brilliant institution at the heart of Channel 4's Educating the East End.
When we interviewed Emma Hillman (deputy head) and Francesca Richards (SENCO) towards the end of last year, I asked them whether their person-centred approach had enabled them to navigate the SEN reforms more easily. Because of their inclusive person-centred practice, they both responded with a resounding 'yes'. Francesca Richards stated that:
'Yes, it's been pretty smooth for us. This is because a lot of our SEN practices were already person-centred. For example, our annual statement reviews already constructed a person-centred approach that puts the child and the child's voice at the heart of the process, alongside rigorous support systems that foster this child-centred approach. So, the practice that we have put in place has allowed us to adapt to the changes quite easily.' Francesca Richards in the eighth issue of The SEND Practitioner
Of course, no school is the same. However, the type of whole-school person-centred approach that an inner-city school like Frederick Bremer follows has reaped extraordinary dividends — echoed by the words of Brian Lamb in our latest issue:
'At root, it's about adopting a quality first teaching approach. Get that in place and you will get parents onside to help your whole-school approach really take off. It's a big investment upfront, but very big rewards will follow if you get it right.' Brian Lamb in the 11th issue of The SEND Practitioner
The challenges are huge; the rewards are great; and, over the coming months, we hope that The SEND Practitioner will help you on your way.
Read issue 11 of The SEND Practitioner.