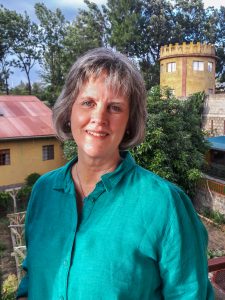 An Interview with Celia Mascher – iSENCO
Celia Mascher is the Lead Special Needs Coordinator (SENCO) as a private school in Kenya and has recently completed our iSENCO qualification. Most of the children she works with are Kenyan nationals and come from within the local catchment area. The school's primary section goes from grades 1-8 and they have around 200 pupils with about 20% of them on the Special Education Needs and Disabilities (SEND) register. Celia has a particular interest in supporting children who are struggling with reading, read below to see what she thought of our iSENCO qualification.
What made you choose the Real Training course over other options?
A friend recommended Real Training to me. I was interested in doing an MEd in SEND and had already checked out a number of universities. I chose Real Training because I liked the practical aspects of the courses offered. I wanted to be able to apply my learning directly within a teaching context. When I first looked at the courses available, I must admit that I was interested in doing almost all of them! However, I had to narrow down my options. I started with the iSENCO course because I felt it would give me a solid foundation in the different areas to do with SEND. Going forward, I am still trying to decide which courses would be most beneficial. We have children in our school with Autism, Cerebral Palsy, Spina Bifida, Down Syndrome, Muscular Dystrophy as well as those with speech, language and communication needs and learning disabilities. I am trying to decide which course would help me best support these children.
What was your experience of learning with Real Training?
Overall, I found learning with Real Training positive and helpful. The iSENCO course gave me the chance to assess the procedures in my school through the lens of research-based evidence. As a result, I ended the course with many ideas on how to improve and develop SEND provision within my school. I really valued the practical aspects of the course. The placement in a different school was eye-opening. The school I visited was very different from the one I work in both in terms of the student body as well as the level and type of learning support offered. I gained helpful new insights on how to deliver SEND provision. Campus Online provides the forum where you can interact with other students as well as delve into the research library to find articles and books needed for the various assignments. I learned new ideas and different perspectives from others on the course. In general, I found it very beneficial to set aside time to do some research on areas to do with SEND. The various tasks and assignments broadened my thinking considerably. The tutor gave helpful feedback on the assignments and was willing to have a chat via Zoom when I needed extra clarification. It is important to remember that the tutor is there to give support where needed. However, as this is an online course students may need to be more proactive in asking for help than perhaps would be the case with an in-person university situation. It is true that working online can be a challenge and requires a high level of self-discipline to get through the course material. There is also a lot to cover within the course itself so it can feel overwhelming at times especially with the many other responsibilities in school. Despite the challenges, I learned a huge amount from the course and I am very glad I did it.
How has the course helped make an impact at school?
Following the completion of iSENCO course, we decided as a SEND team to carry out a thorough audit of our school's data management systems. We realised that there was a communication breakdown in some areas, which meant that the progress of children with SEND was not being tracked effectively. We are now in the process of setting up procedures to ensure that all aspects of SEND provision are better documented. This includes setting up a detailed provision map and establishing a clearer referral procedure than the one we had before. In addition, I have updated the schools SEND policy to reflect a graduated Assess, Plan, Do, Review approach to SEND provision. I have carried out a series of training sessions with all the teaching staff to ensure that everyone is aware of the changes. The overall goal is to improve the communication and sense of partnership between the SEND team and class teachers. So far, the new procedures have been positively received.
How has the course helped develop you as an educational professional and what do you hope to achieve with the new knowledge/skills in the future?
The iSENCO course has been a journey of discovery for me and has given me a lot more confidence in my role as a SENCO. I now feel able to assess the elements of SEND provision within my school and objectively review those areas that need to be developed or improved. I also feel more knowledgeable about how to build a team based on collaboration while focusing on each team members strengths. One of the key aspects of my role is to promote and deliver continued professional development (CPD) for teachers in the school. The teachers have asked for further training differentiation strategies in their lessons. This course has given me the tools and ideas to implement CPD with greater self-assurance.