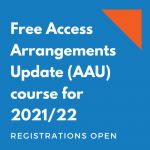 admin
The course is similar to last year's in that there are two sections. The first section is an overview of the changes led by Nick Lait, Head of Examination Services at the JCQ. In the second section, there are further teaching exercises, videos of test reviews and MCQs which, if completed, give three hours of SASC accredited CPD*.
We are very happy to announce that our free 2021/2022 Access Arrangements Update (AAU) course has been confirmed, and is now available through Campus Online.
If you have already registered for previous years you will be able to access the new course via your Campus Online portal when it is released. If you have forgotten your log-in details, these can be reset automatically.
Whereas in the past the eligibility criteria for access to this update was a level 7 QTS-approved access arrangements qualification, this year, the free update is open to anyone in an educational setting with a professional interest in exam access arrangements, and this applies to both parts of the update. If you have any colleagues who you feel might be interested in this course, please feel free to share this email with them so they too can take advantage of this update.
Please note, this course is in no way a standalone qualification and does not in itself confer the right or ability to carry out access arrangements. If you wish to become qualified as an Access Arrangements Assessor, please follow the link for details of the Real Training CPT3A course.
*Please note, all activities in the second section will need to be completed to give you a certificate confirming 3 hours CPD and the SASC-accredited CPD hours for those that would find them relevant and useful.
If you haven't yet registered, you can gain free access by clicking the button below. Signing up takes a matter of seconds, with no lengthy booking forms involved. You can do this at any time.
Benefits of the free 2021/2022 Access Arrangements Update
Those registering for the free access arrangements update will:
Gain 3 SASC-accredited CPD hours upon completion*
Be fully up to date with the new JCQ guidelines and requirements for the academic year
Have access to a popular forum to ask questions of both peers and tutors about specific challenges
Be able to work through the course in their own time, as it is fully online
Have access to a certificate of completion
* Only applicable for those who hold a relevant QTS-approved level 7 Access Arrangements qualification
Book your place now in order to be completely up-to-date with the current guidelines for the coming academic year. Sign-up takes seconds.
If you have any further questions, please feel free to contact us at info@realgroup.co.uk, or call us on +44 (0)1273 35 80 80 and we'd be happy to help