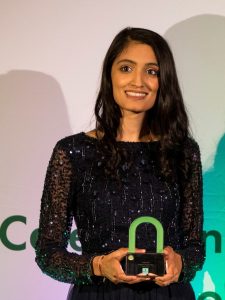 Jemini Patel – NASENCO
Jemini worked as a teacher at the Whitefriars School in Harrow. She decided to study our NASENCO course as she believed the children in her school needed more support. She is now working as SENCO and Assistant Head Teacher at an all-through school for children aged 4 – 19 years old. Jemini Patel has recently won the Teacher of the Year Award at nasen's sixth annual awards ceremony!
"Our school and our pupils are lucky to have Jemini, and Jemini is a very worthy winner of this award. We are very proud of you".
-Whitefriars School Headteacher, Jonathan Watson
What made you choose the Real Training course over other options?
The course was recommended by a colleague, as she completed her NASENCO course with Real Training and informed me about the flexible route into becoming a SENCO. I liked the modules where you could trial and implement strategies and projects in your school. I particularly enjoyed the Comparing Settings module, as it allowed me to compare provisions and learn about what other schools did.
What was your experience of learning with Real Training?
It really went above my expectations as I thought distance learning would mean researching everything independently. This was not the case, the up-to-date research being all in place really helped develop subject knowledge and the support given by my tutor was amazing. She really provided me with in-depth support and guidance. Support was consistently given so I never felt alone. Questions were answered immediately, and guidance was step-by-step so that I could fully understand.
How has the course helped develop you as an educational professional and what do you hope to achieve with the new knowledge/skills in the future?
I have developed a strong subject knowledge, as well as effective practices that I can take into my role. It has helped me to create effective action plans to guide provision for SEN pupils.
Lastly, what are the top 3 things you are looking to do within your setting, since completing the course?
1. Developing staff subject knowledge on SEN
2. Developing speech and language provision in the school
3. Using PECs as a way for children to communicate