Peter Willis, Assistant Head and SENCO at The Bewdley School & Sixth Form was kind enough to share his experiences of completing his MEd SEND through Real Training.
Thank you Peter for taking the time to do so! Check out the video below.
Achieving the Master of Education and SEND Programme (MEd SEND)
To achieve the Masters' qualification, our MEd SEND Graduate 2020 Peter Willis chose to study the following courses:
Real Training SEND Programme – Teach Primary Awards 2019 Winner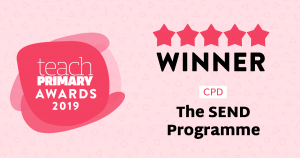 Our masters-level SEND Programme has won the top 5 star award in the CPD category of the Teach Primary Awards 2019. We are delighted that the programme has been recognised as a valuable learning structure for education professionals in a primary setting, allowing them to gain effective and relevant practical skills and knowledge to support their students with additional needs. The professionals can also combine modules on the programme to achieve a range of postgraduate qualifications, which are validated by Middlesex University.
Are you looking to achieve an MEd in SEND in the future?
If joining our MEd in SEND is of interest, there is still to apply for our 15 September cohort, a list of our modules and qualifications can be found here. Each module is delivered online and can be completed anywhere in the world. Each course comes with dedicated online tutor support through our bespoke online learning platform Campus Online. Whenever you are ready to enrol for your a MEd SEND module, you can complete an online booking form here. Alternatively, do not hesitate to contact one of our courses advisers if you have any questions regarding the SEND Programme by calling us on +44(0)1273 358080 or email us on info@realgroup.co.uk.