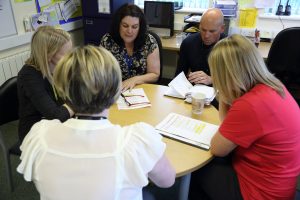 Whether you choose online training or intensive courses, you will be required to take the same assessments and produce a portfolio of evidence that demonstrates your competence.
The online training
If you are looking for an accessible and flexible option then the online training is for you.
Start when you want to and work at your own pace using Campus OnlineTM — our cutting-edge, custom-built online learning platform that places you at the heart of learning.
Take unprecedented control over your learning and interact with your tutors and peers every step of the way.
Track your progress and take on board the latest learning and practice as you complete assessments and professional reports in your place of work.
The intensive route
If you wish to complete this module quickly, you might prefer to attend an intensive residential course at a good quality hotel near you.
Receive tuition and take part in discussions and evaluation tasks that increase your competence.
Prepare before the course and apply your learning in practice afterwards.
Get a taste of how the intensive CCET works.