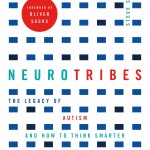 admin
Issue 14 of The SEND Practitioner published on Saturday 13 February.
Our in-depth discussion with the New York Times bestselling author of Neurotribes was well-received.
Steve Silberman tackled our readers' questions with aplomb, discussing:
Whether a normal person can fully realise and understand the autistic day-to-day realisation of simply not belonging.
How SENCOs can best support secondary school autistic children in mainstream classes.
The merits of pursuing causation research.
The differences between genders vis a vis autistic traits.
The value of Asperger's case studies for supporting personalisation in education.
Lorna Wing's legacy.
The future of autism.
Read issue 14 of The SEND Practitioner.
Sign up to The SEND Practitioner to receive the latest professional insights.