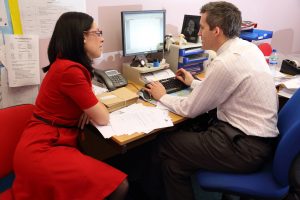 We've been informed by the DfE that a hiatus on funding is about to take effect. So if you want to benefit from a government-funded NPQ, you need to enrol by 12 September. Check here if your school is within a DfE opportunity area – and as such you should be eligible for a fully-funded NPQ course or contact us.
What NPQ courses do Real Training offer?
We offer NPQs at middle, senior and headship levels – to benefit everyone from aspiring leaders at the start of their teaching career, through to current or aspirant head teachers.
What makes our courses different?
As well as a deep-seated and long-standing commitment to inclusive learning and improving outcomes for all, Real Training have always been an expert, next-generation online learning provider. We believe that, in educators real lives, flexibility – coupled with support, are absolutely vital to effective development.
Our programmes have no internal deadlines, so the learning adapts to you and doesn't force you to make compromises between in-school commitments and learning deadlines. And as the experts in fully-online masters-level training, we are the only provider in the UK accredited by the DfE to deliver NPQs entirely online.
There are many, many other benefits to studying for your NPQ with Real Training, all of which are detailed on the NPQ web site. But most of all, studying with Real Training means you can benefit from leading-edge inclusive leadership development, informed by educational psychology, without the added stress of internal deadlines or having to be away from your school.
What are the next steps to register and benefit from a funded place?
Registering is simplicity itself. All you have to do is go to our booking form, select the course for you and complete a few brief details – it takes no more than a couple of minutes. If you do want to take the next step in your leadership journey – and benefit from a funded place – make sure you register by 12 September. Once your form is submitted, our education support team will work with you on the next steps to get you enrolled and on the path to new skills and career opportunities.