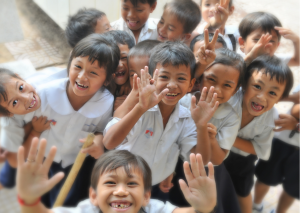 The International Award in SEN Coordination has been created, specifically for the International schools market. We've successfully delivered training to thousands of SENCOs within the UK – and now the same quality content and delivery, focusing on international topics and legislation, is available for international teachers without UK-equivalent QTS.
This programme was developed and is delivered and assessed by Real Training, awarded by and quality assured by Middlesex University.
Delegates completing this International Award in SEN Coordination course will gain the skills and knowledge to:
To develop effective leadership and management skills in relation to SEND coordination within an international school setting.

To develop an understanding of how wider cultural, political, historical and community contexts influence SEND provision internationally.

To engage with international research and evidence-based practice regarding inclusive education.

To critically examine the research on interventions in the field of SEND and demonstrate both knowledge and understanding of both its applications and limitations.

To develop different models of partnership within their setting, with an understanding of the place of power and ethics in listening to and understanding children, parents and carers.
Cohorts begin in January, May, or September.
The next cohort begins on 15 January 2024. Book and enrol before 15 January 2024 to join our next cohort.
On successful completion of this module, students will have knowledge and understanding of:
The context for leading inclusive education within an international school setting.

The range of statutory and regulatory frameworks and the wider cultural, political, historical and community contexts influencing SEND provision internationally.

The strategies to differentiate between pupils who have English as an additional language and/or SEND and how they can affect pupils' participation and learning.

The role of communities and culture when promoting inclusive education.
On successful completion of the International Award in SEN Coordination, students will be able to:
Demonstrate the effective use of resources to deliver high-quality SEND provision in line with best value principles.

Communicate effectively and work strategically with senior colleagues, school governors and to draw on external sources of support and expertise to enhance SEND provision.

Identify and implement systems for monitoring and evaluating systems of teaching and learning incorporating tools for collecting, analysing and using data about pupil progress.
Learn on the job
Harness your day-to-day experience and work with your tutor to develop your skills.
Become an expert in this area in your school – and save your school money.
Develop effective support for the most vulnerable children in your school.
Engage with flexible e-learning
Study online and integrate your learning into your working day.
Access a wealth of practical resources, academic research and interactive materials.
Take part in a flexible module that draws on a broad range of learning tasks and practical experience.
Work closely with your peers and dedicated tutors online.
Experience mentoring and work placements that really complement your learning.
Accrue credits towards your MEd
Attain 60 Masters-level (M-level) credits when you successfully complete this module.
Connect with your peers
Obtain exclusive access to Campus OnlineTM.
Interact with your peers using our advanced learning platform and our unique student forum.
We will ensure that you never feel lonely or unsupported in your studies.
Liaise with experienced tutors
Enjoy dedicated specialist support from a broad range of experienced tutors.
Receive expert guidance from us throughout the module.
Learn from SENCOs and educational psychologists who know the education sector inside out.
Work with our friendly team of independent professionals – committed to giving you the training that you need.
Choose a start date that suits you
Cohorts begin in January, May, or September.
The next cohort begins on 15 January 2024. Book and enrol before 15 January 2024 to join our next cohort.
Take a quality-assured module
This module is validated by Middlesex University, so you can be assured of its quality.
The International Award in SEN Coordination is divided into four units.
These units cover the following:
Strand 1:

The context for inclusive education within international settings. The aims of this unit are to explore the range of wider cultural, political, historical and community contexts influencing SEND provision internationally. To equip delegates with a comprehensive understanding of the complexities of identifying SEND needs for pupils with English as an additional language and how these affect pupils' learning and development.

Strand 2:

Developing strategy and policies for inclusive education. The aims of this unit include allowing delegates to draw on a wide range of evidence, policy and resources and work with others to positively influence the strategic vision and commitment for the delivery of inclusive education.

This unit requires each delegate to undertake a placement of up to 2 days in another international school identified and nominated by the delegate. The placement school will be one in which an area of applied professional practice can be compared, contrasted and critically analysed with the same area of practice in the delegate's own school, leading to developmental outcomes for the SENCO to implement.

Strand 3:

The development, planning and application of inclusive practice. The aim of this unit is to allow an in-depth analysis of a particular issue in the workplace, drawing on theory, evidence, local practice and external sources of support to design, implement and evaluate a local intervention aimed at enhancing the outcomes for one or more SEND pupils.

Strand 4:

Collaboration and leadership. The aims of this unit are to enhance skills in collaboration, leadership and staff management, by fostering an understanding of the SENCO's key role in leading sensitively within a multicultural context, emphasising the essential nature of interpersonal relationships for effective planning and delivery of interventions, and how to enhance their own and others' personal and professional development.
There is also various region-specific content within the iSENCO course. This includes:
Regional discussion forums enabling you to connect with fellow delegates working in a similar environment to you.
Delegate introduction videos from existing delegates from all around the world.
Case studies from previous delegates, offering insight into the role of a SENCO in their country, cultural context and impacts on their educational setting.
How will you be assessed?
To successfully complete this course delegates will need to complete the following:
Three Applied Practice Tasks (equivalent to 2000 words):
SEND Policy analysis:

Analyse the SEND/inclusion policies from your own school and your placement school to compare the language used and the approaches taken to the management of SEND and inclusion issues across the schools.

Summary of SEND data management systems:

Collate an overview of the SEND data tracking and monitoring systems used in your setting. include:(a) At least two pieces of evidence of your own practice at the systemic (whole-school) level, eg an anonymised section of your SEN or AEN Register or an anonymised copy of your Provision Map/other data management systems that you use at a school. You may wish to include more than two. (b) At least one piece of evidence of your data monitoring systems at the 'individual learner' level to demonstrate your monitoring/tracking of an individual pupil's progress.

Review of SEND provision within your setting.
Summarise either in narrative or diagrammatically the different levels of SEND provision in the school and the process of how pupils level of SEND provision is reviewed and revised. Critically reflect and comment on areas of strength in your settings current model and evaluate how far the current model reflects a graduated approach to SEND provision.
Three Masters Assignments:
Strand 1 – M level assignment

– a critical analysis of the relationship between the culture and ethos of your setting/locality and international research on inclusive educational provision for learners with SEND (3000 words)

Strand 2 – M level assignment

– a critical analysis, evaluation and comparison of a focus area of inclusive education within two diverse schools/working contexts/learning environments (3000 words)

Strand 3 – M level assignment

Either: Option A: an individual-child level case study analysis and evaluation in the format of either a written paper or a presentation (including slides and commentary) – multimedia presentations will be acceptable and encouraged – (3000 words) or Option B: Provide a critical analysis of a piece of project work undertaken in your school / consortium to support the assessment and/or provision of services for pupils with SEND (3000 words).
One Reflective Learning Log:
Students will also take part in self-assessment exercises as part of their engagement with the course materials. They will also complete reflective learning activities. Students will be asked to record their experiences at various points during the course in 'reflective learning logs'. Learning logs will be reviewed by tutors and they will offer their feedback on them, but they are primarily designed as a structured way for students to record their practical experiences and use these to develop their practice.
Delegates, should they wish to and where a word equivalence option is given, will be encouraged to produce a portfolio of evidence including the use multimedia approaches where suitable but will not be penalised for using text-based submissions.
Does this qualify you as a SENCO in the UK?
The iSENCO is a perfect qualification for those leading the SEND provision in an international school, but it is important to note that the iSENCO qualification alone would not qualify you to work as a SENCO in a state-maintained school in England.
If you are planning to return to England in the future, we offer a free top-up module for the iSENCO course that covers the UK SEN legislation. With this top-up, you would also gain the mandatory qualification for all SENCOs in state-maintained schools in England, the National Award for SEN Coordination (NASENCO).
The free top-up module will provide you with the information that is required from NASENCO but isn't part of the iSENCO course. It is assessed by submitting several short tasks to evidence the criteria.
You can sign up for this on the booking form once you have successfully completed iSENCO.
Please note, due to the introduction of the NPQ SENCO in the UK, the last opportunity to start the iSENCO top-up course is 15 July 2023.
Please remember that you are still required to have QTS or QTLS to complete the top-up module. You cannot practice in the UK as a SENCO without QTS or QTLS.
The International Award in SEN Coordination is ideal if
You completed an undergraduate degree.

You work as a current or an aspiring SENCO in an international setting defined as a school that promotes international education, whether in an international or UK environment, either by adopting a curriculum such as that of the International Baccalaureate or by following a national curriculum different from that of the school's country of residence.
This course is available online and can, therefore, be completed anywhere in the world. Please click here for advice on payment options and other information relevant to those studying outside of the UK.
We offer a flexible range of fees to suit you:
Single payment of £2,990 + VAT.
Three monthly instalments of £1,022 + VAT.
Ten monthly instalments of £311 + VAT.
Speak to us (01273 358080) or make a booking.
When does the course start?
Cohorts begin in January, May, or September.
The next cohort begins on 15 January 2024. Book and enrol before 15 January 2024 to join our next cohort.
Please note: as it takes time to process your application and payment, we strongly recommend registering as soon as possible, so that you don't miss the next intake.
How long does it take to complete the course?
The duration of the International Award in SEN Coordination course is up to one year.
We do understand, however, that circumstances can arise that could prevent the course from being completed in this time period. If this is the case, an extension can be arranged in conjunction with the admin team and your tutor.
See what our delegates have to say
"The support during the iSENCO module was incredible. Feedback happened much faster than I expected, and genuine efforts were made throughout to assist me during the tasks." – Monique Van Zyl, 2021
"The iSENCO course gave me the chance to assess the procedures in my school through the lens of research-based evidence. As a result, I ended the course with many ideas on how to improve and develop SEND provision within my school. I really valued the practical aspects of the course." – Celia Mascher, 2021
To read our delegates full feedback and to hear from other Real Training alumni please visit our iSENCO delegates feedback page here
Meet the Module Leader
Katie Hickin

Katie has worked within educational settings for a decade as a teacher, a SENCO and a member of the Senior Management Team. Now working for Real Group, Katie leads and tutors on the SEND Programme, including the NASENCO and iSENCO qualifications.