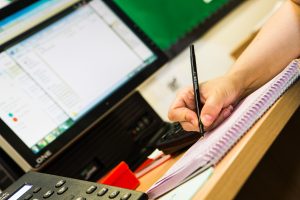 After months of careful planning, Real Training are very excited to announce the launch of Campus Live, with the Certificate of Competence in Educational Testing (CCET) Campus Live Event!
As an EdTech company, we have always placed flexible, online and blended professional development at the heart of everything we do. This CCET Campus Live Event offering is a valuable addition to our repertoire, allowing delegates to benefit from the advantages of the 'intensive' CCET programme, without the need to travel. Like our intensive courses, this takes place over the course of three days, and covers the vast majority of the theoretical work, along with some parts of the practical assignments. The only difference is it is brought to wherever you are, by expert trainers, through the Campus Live platform.
What is Campus Live?
Campus Live is a browser-based solution that requires nothing to download, no software installation, and is optimised to deliver excellent video quality regardless of internet speed. It is as fully interactive, as if you were in the room with the psychologists, with the ability to ask questions, work in groups, get one-to-one help and get access to all the course materials you need, live within the online classroom environment. There is also the ability to screen-share and collaborate with fellow delegates, interactive whiteboards and a live chat feature, ensuring your experience is fully immersive.
How is this CCET Campus Live Event delivered?
To reassure, the course content is no different from our normal intensive courses and requires nothing different from you as a delegate. All you need is a computer or tablet with either Chrome, Firefox or Opera browsers installed, an internet connection, a webcam, microphone and speakers or headphones. Of course, if you do happen to encounter any technical difficulties, our IT support team will be on hand throughout the course to swiftly get you back on track.
Campus Live has been designed to accommodate all delegates through a variety of different work environments, ensuring you will always feel supported. Equally the course has been designed with you in mind too, allowing for plenty of comfort breaks to ensure the smooth running of the course for the ultimate learning experience.
Our Certificate of Competency in Educational Testing (CCET) qualification
Our Certificate of Competence in Educational Testing (CCET) is an open-access course, meaning to be eligible to enrol, you only need to be working in or have access to an educational setting, and have access to the psychometric tests for the duration of study.
CCET allows schools to bring expertise in psychometric testing to assess children and determine their strengths and specific learning needs 'in-school', and in turn allows schools to work more effectively with their educational psychologists and make better use of their time.
With our CCET qualification, among other things, you will be able to identify, administer and analyse tests within an educational environment, understand how to write and interpret reports, understand the legislative and policy framework, as well as being able to identify and overcome barriers to learning. Other benefits to the school include:
Access to a wealth of practical resources, academic research, and interactive materials

Access to discounted educational tests and other resources

Development of effective support for the most vulnerable children in your school
If you do hold a qualification to teach, and would find it useful to be qualified to carry out access arrangements in your setting, you could enrol on the Certificate in Psychometric Testing, Assessment and Access Arrangements (CPT3A). This course combines CCET and the Access Arrangements Course (AAC) to give you the opportunity to become your educational setting's qualified exam access arrangements assessor.
If you are interested in booking on this ground-breaking course, you can book your place here. It is 'training as usual' here at Real Training, so if you have any further questions, either in relation to the course or the Campus Live platform, please don't hesitate to contact us here.